Palo Cedro and Cottonwood Dental Care are now providing Guided Biofilm Therapy (GBT) using Airflow technologies that remove biofilm microflora and improve oral prophylaxis outcomes which benefit one's overall health.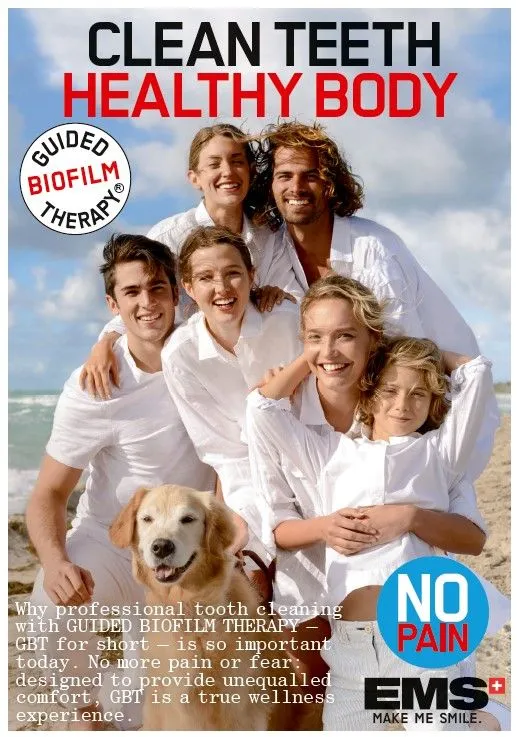 WHAT IS GBT?
Guided Biofilm Therapy (GBT) is the systematic, predictable solution for dental biofilm (bacteria) management in professional dental cleanings using state of the art Airflow technologies. The treatment is given in the least invasive way, with the highest level of comfort, safety and efficiency.
WHY IS GBT A "GAME CHANGER"?
Dental biofilm (bacteria) is the main etiologic factor for caries, periodontal and peri-implant infections. Periodontitis can increase the risk of systemic diseases, such as cardiovascular and respiratory disease, arthritis, and diabetes.
Regular oral hygiene, combined with professional measures keeps biofilm under control – for better oral and systemic health.
The Airflow GBT technology is a water, air and erythritol plus powder delivery system, that eliminates the traditional scale and polish you may be used to.
The erythritol plus powder is the first high-tech powder that removes Biofilm and young calculus in a minimally invasive way from all types of surfaces: enamel, dentine, soft tissue, restorations, orthodontic appliances, and implant surfaces. The Erythritol based molecule provides a unique indication for both above the gum line and below the gum line use.
So, at your next profession cleaning, your dental hygienist will review with you how they will better assist you with achieving optimal oral health with our new Airflow GBT technology!
Benefits of GBT to Patients
More Effective Oral Prophylaxis
Administered with the Highest Level of Comfort, Effectiveness and Safety
A Biological Approach to Treatment rather than the Conventional Surgical and Mechanical Technique
Virtually Eliminating the Plaque and Biofilm on and around your Teeth and Gums
Safely Destroying Bacteria with a Natural Product and Delaying their Return
Cleaning a Patients Teeth and Gums without Abrading the Enamel, Restorations or Orthodontic Brackets
Establishing Optimum Oral Health Prior to Embarking or Restorative or Aesthetic Dentistry
Greatly Reducing the Potential for Bacteria to Travel to Internal Tissues and Organs
Patients will Notice a Difference in the Feel of their Teeth and Gums after the First Appointment